Osaki OS-4000 Massage Chair is a top selling Zero Gravity Shiatsu Massage chair with full body massage functions that has reached the studios of personalities like Steve Harvey.
The one thing I liked very much about Osaki Chairs business model is that they focus on their core business and that is to make chairs, they have become a big time drop shipping company who would work with dealers all over USA and outside. This model has not only helped them focus on higher marketing reach but also has helped them in perfecting their design based on the feedback without getting tangled into marketig fuss themselves. That's one good business model, Don't you think?
Now Let us focus on their best selling product- Osaki OS-4000 Massage Chair. Below are our detailed research findings on this chair and also let us hear what is the say about the chair from the people who have already used it and reviewed it.
Zero Gravity Position
Being a technology specific blog, most of our readers know by now that at Zero Gravity Chairs HQ, we keep our focus only on the chairs that are "Zero Gravity". If a chair cannot demonstrate that it can assume zero gravity; lift legs above heart level, then we are not interested in that.
Osaki OS-4000 was not an exception for this. During our research, we found this:
So Osaki OS-4000 convinced us finally that it can assume zero gravity position and hence can give the maximum comfort while seating as it is intended.

Auto Body Scanning Function
Latest technology being used in Osaki massage chairs allow to utilize it for "Body mapping" techniques to better understand the unique contours of individual occupant body. The massaging rollers in the chair also are equipped with sensors which captures and maps the body curvature in accuracy. This in turn helps the massaging function program to better focus on the pressure points to provide customized massaging experience.
This one specific feature makes the Osaki OS-4000 chair as the one perfect massage chair in front of other expensive alternates. Imagine being able to get a customized massage based on your body structure and the very fact that the system is capable on its own up to some level to identify the pressure points to focus more. That is really a wonderful feature.
The S-track
Another remarkable feature in the Osaki OS-4000 zero gravity massage chair is its build. We observed during our research that the chair interiors in leatherette has been formed on a firm S-Track which has been designed with keeping in mind the human spine shape. All of these would have made sense only to be a marketing pitch untill we also observed that there is an additional focus and support provided for the Lumbar
Region. Now for all of us who have been victim of Back pain that Lumbar region, being the highest load bearing and flexible region of our body, is more prone to stresses especially once it us hurt.
So this specialized Chair build with S-track feature would prove to be a major factor that drives the decision for the people who are looking for a perfect massage chair for their chronic back pain issues as well want to enjoy other body massage benefits a massage chair can provide.
Core Massage Functions: Osaki OS-4000 Massage Chair
Now that we have knocked off the fundamental criteria, it is time to see the core functionality. Below are the core massage functions of this Osaki massage chair.
Osaki OS-4000 massage chair has about 38 Air Bags in different locations for different massaging Functions. Below Diagram shows the exact location of these Air Bags.

In addition to the massage Air Bags and most importantly, this massage chair uses twin rollers to massage the length of the complete back from top to bottom on either side of the spine column. The design of these rollers mimic the human thumb to replicate the "Human touch" in the process and essentially to relax the mind better.
These Rollers are adjustable in their width for customization.
Let us skim in to the various massage functions available:
[su_divider top="no" style="dotted"]
Five unique Auto-programmed Massage Functions
Healthcare,
Relax,
Smart,
Circulation
Demo
[su_divider top="no" style="dotted"]
Individual Massage functions can also be done using the Integrated LCD Control Panel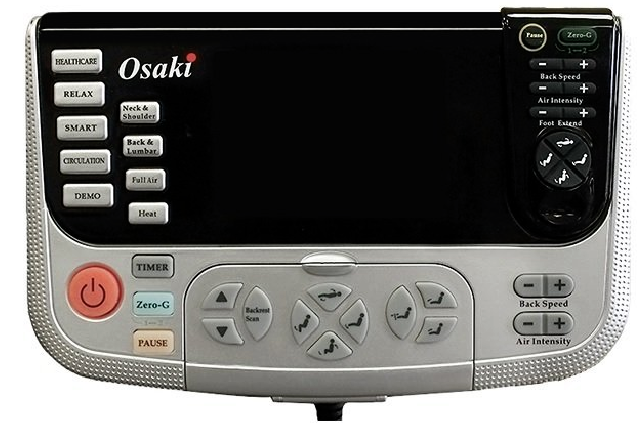 [su_divider top="no" style="dotted"]
Manual Massage Function has Six Modes:
Rolling,
Kneading,
Clapping,
Shiatsu,
Swedish
Combo.
[su_divider top="no" style="dotted"]
One of the traits of having Neck pain especially spondylitis is that the pain radiates from the neck to Shoulder, Arms and Hands. I know from my personal experience that these pains are beyond regular tolerance level and affects daily work.
Osaki OS-4000 chair comes with Arm massaging area which uses durable Spandex with small bumps that excites the senses in the arms and also the air bag pressure intermittently massaging the air to give best experience.
[su_divider top="no" divider_color="#000000″ link_color="#ffffff"]
Foot and Calf Massage is another great feature from Osaki Massage chair for those tired feets.
As it is said most of the tiredness can be rejuvenated with one good foot massage. With the customized Foot and calf massage in this chair, you are surely going to wake up from this chair.
[su_divider top="no" divider_color="#000000″ link_color="#ffffff"]
Osaki 4000 chair can provide massage effect by left and right squeezing air bags which will compress the hips by compressing the thighs from both sides.
At the same time a set of rollers will apply pressure and work on your lower back (lumbar) region and move downwards. Also lumbar region has 2 air bags which will inflate at this time to provide pressing effect.
[su_divider top="no" divider_color="#000000″ link_color="#ffffff"]
Major of our body pains are exhibited in terms of shoulder pains. Whatever might be the condition, the shoulder and neck stress is a common factor and it should not be ignored.
Well, Osaki has not ignored it either in their design. 2 air bags press from the either side of the shoulder and 2 air bags press from top of shoulder downwards, massaging the most stressed muscle – top shoulder muscle.
[su_divider top="no" divider_color="#000000″ link_color="#ffffff"]
Another great feature of Osaki OS-4000 massage chair is the lumbar heating facility. There are 2 heat pads placed on the either side of the chair where Lumbar region of your back rests when you occupy the chair. The heating facility acts as a great supplement to the roller and airbag massage functions preset in the chair.
A word of caution as recommended by the manufacturer is NOT to use this heating for continuously more than 30 minutes and also NOT with the preset massage functions.
[su_divider top="no" divider_color="#000000″ link_color="#ffffff"]
Last but not least, Osaki 4000 chair comes with vibration function as an added function. A High-frequency massage plate has been embedded on the back rest portion near legs to provide vibration and soothing effect during massage for the tired legs.
From my own experience, people with back pain complaints often have muscles of back leg tight enough which limits them from motions such as forward bending. This vibrate function comes as a bonus for them and completes the chair for a complete massage experience.
[su_divider top="no" divider_color="#000000″ link_color="#ffffff"]

Additional Features
Wireless Controller is another hip feature of Osaki OS-4000. This especially comes handy when you might not be in the middle of a massage cycle and you want to control. This handy small remote can be found as a part of main remote panel which you might difficult to reach to when the massage is happening.
[su_divider top="no" divider_color="#000000″ link_color="#ffffff"]
Osaki OS-4000 comes with Auto Leg scan and adjust facility. Initially the leg space of the chair will be in fully stretched condition. Once you get seated, and massage function is initiated as the routine of adjusting to the body contours, the leg space stat retracting and when it is at the correct spot as per your leg length, all you have to do is press it against so the sensor can feel the end and stop it. This specific feature will be enhancing your massage experience as the legs need to get tightly adjusted to the massage air bags to perform massage operation.
[su_divider top="no" divider_color="#000000″ link_color="#ffffff"]
How big person can fit in this chair?
In massage chairs, it is about body measurement more and less about weight bearing capacity.
The shoulder massagers are 20″ apart, which means anyone whose shoulder width  22″ or less can fit in this chair comfortably. If you are more than 22 inches in shoulder width we suggest you check Osaki OS-3D Pro Cyber which has additional 1.5 inches in shoulder width.
Seat base is 17″ in width which roughly translates to 40 inch waist size.
A person up to 6'3″ can be accommodated in this chair.
When fully reclined, this chair will take up floor space of a rectangle of 6′ in length and 3′ in width (side to side).
Warranty: Osaki OS-4000 Massage Chair
The Chair is available for purchase with standard warranty of one year from the date of manufacture. Here are few tips to make the best use of the chair in terms of warranty and long term use.
While buying the chair, it is advised to adopt to "White-Glove Delivery Service". It might cost you a small amount but will help in getting the chair to the spot of use in the hands of the company personnel or representative.
Make sure the area selected for the chair is a permanent location to avoid need for shifting later; ensure the area is free of any dust / muck, area is free from daily movement paths, obstructing views / air circulation.
Keep the warranty document always handy.
Ask the seller if he can provide an extended warranty.
Customer Reviews on Osaki OS-4000
Osaki 4000 has recieved lot of positive feedback which is a very good signal given that it is an expensive chair. Here are the reviews of people who have bought it on Amazon.
[scrapeazon asin="B002OVUEFO" width="750″ height="400″ border="2″ country="us"]
Price
When it comes to Price, It is so easy to recomment Osaki OS-4000 because it is covering almost all functions of Inada Sogno Dreamwave Massage Chair, yet cost you less than half of the Inada Chair. Osaki OS-4000 is a perfect companion for your home massage needs at justifiable cost.
Pros
Cons
Conclusion
It is clearly evident that Osaki OS-4000 massage chair has been created with lot of passion to serve people. With loads of benefits being offered by this chair and the relatively low cost makes the offer still attractive.